This is the Mill where you make food for Troops.

Edit

1. Troop food adds bonuses to your troops.
2. Other food you can make can give you an experience boost when leveling.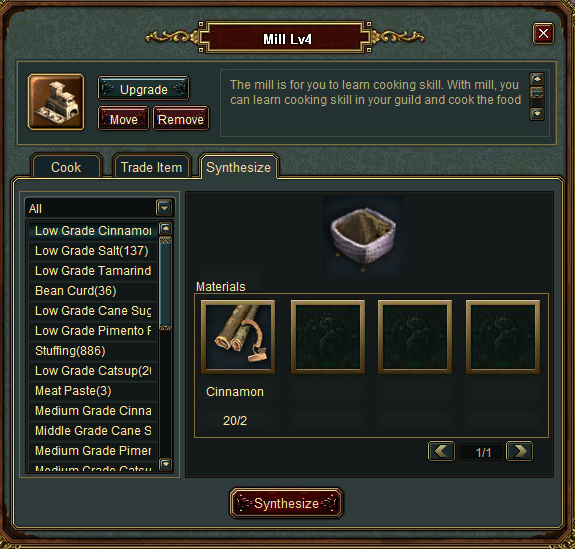 A.

Synthesizing ingredients/ore is available in other tabs of this.
B. Synthesizing is also on a percentage fail/success rate, which varies from Low to Super. C. Ingredients/Ore can be found from lairs, collection points and world mobs.
Cooking System Introduction:
Edit
This new version updates the Life Skill – Cooking, and the Cooking System. Players can produce delicious food if they master the Cooking System. Using food items will not only provide Buffs for players, they will also add some mysterious effects. Can't wait anymore? Go and collect some cooking materials for your own feast!
Cooking Food:
Edit
There are 5 levels of Cooking Skill, which can be learned in the Production Base. Each Skill Level upgrade requires 3 conditions: 1. You have mastered the Skill. 2. Related Production Research Level has reached the required Cooking Skill Level. 3. You have enough Guild Coins. Build a Mill in the City, and get the Cooking Recipes and Materials from collecting, monster drops, Shop, Guild Shop or other methods, then produce food in the Mill. (Player can exchange for fantasy spice recipe in the Mill through collection and daily task) There are 3 kinds of Cooking Foods: 1. Improve Troop Attributes 2. Improve the EXPs gained from battle 3. Reduce Damage.
Cooking Food Quality is ranked by different Colors: White – Green – Blue – Purple - Orange
| Material Level | Name | Synthesizing Material | Required Amount |
| --- | --- | --- | --- |
| Level2 | Bean Curd | Soya Bean | 2 |
| | Low Grade Cane Sugar | Cane Sugar | 2 |
| | Low Grade Pimento Powder | Pimento Powder | 2 |
| | Low Grade Salt | Salt | 2 |
| | Low Grade Catsup | Catsup | 2 |
| | Low Grade Tamarindus Indica Linn | Tamarindus Indica Linn | 2 |
| | Low Grade Cinnamon Powder | Cinnamon | 2 |
| | Stuffing | Streaky Pork | 2 |
| Level3 | Medium Grade Cane Sugar | Low Grade Cane Sugar | 2 |
| | Medium Grade Pimento Powder | Low Grade Pimento Powder | 2 |
| | Medium Grade Salt | Low Grade Salt | 2 |
| | Medium Grade Catsup | Low Grade Catsup | 2 |
| | Medium Grade Tamarindus Indica Linn | Low Grade Tamarindus Indica Linn | 2 |
| | Medium Grade Cinnamon Powder | Low Grade Cinnamon Powder | 2 |
| | Meat Paste | Stuffing | 2 |
| Level4 | Top Grade Cane Sugar | Medium Grade Cane Sugar | 2 |
| | Top Grade Pimento Powder | Medium Grade Pimento Powder | 2 |
| | Top Grade Salt | Medium Grade Salt | 2 |
| | Top Grade Catsup | Medium Grade Catsup | 2 |
| | Top Grade Tamarindus Indica Linn | Medium Grade Tamarindus Indica Linn | 2 |
| | Top Grade Cinnamon Powder | Medium Grade Cinnamon Powder | 2 |
| | Meatball | Meat Paste | 2 |
| Level5 | Super Grade Cane Sugar | Top Grade Cane Sugar | 2 |
| | Super Grade Pimento Powder | Top Grade Pimento Powder | 2 |
| | Super Grade Salt | Top Grade Salt | 2 |
| | Super Grade Catsup | Top Grade Catsup | 2 |
| | Super Grade Tamarindus Indica Linn | Top Grade Tamarindus Indica Linn | 2 |
| | Super Grade Cinnamon Powder | Top Grade Cinnamon Powder | 2 |
| | Cured Meat | Meatball | 2 |
Cooking Recipe and Relevant Synthesizing List:
| Recipe | Cooking Material | Food Effect |
| --- | --- | --- |
| Recipe: Vegetable and Fruit Soup | Required: Tomatoes(6) | Increase Peltast Attack 1.5 |
| Recipe: Fry Cutlet | Required: Streaky Pork(3), Sugarcane(3) | Increase Cavalry Attack |
| Recipe: Strange Taste Streaky Pork | Required: Streaky Pork(2), Tamarindus Indica Linn(2), Salt(2) | Increase Hero EXP+20% |
| Recipe: Indica Rice | Required: Dry Wood(1), Rice(5), Tamarindus Indica Linn(2) | Increase Pikeman Attack 1.5 |
| Recipe: Doughnut | Required: Vanilla Spice(1), Flour Sack(5), Sugarcane(2) | Increase Cavalry Attack:1.5 |
| Recipe: Salt Wolf Meat | Required: Dry Wood(1), Wolf Leg Meat(5), Salt(2) | Increase Ballista Attack 1.5 |
| Recipe: Dried Pork | Required: Vanilla Spice(1), Ham(5), Salt(2) | Increase Trebuchet Attack:1.5 |
| Recipe: Rice Crust | Required: Dry Wood(1), Rice(5), Sugarcane(2) | Increase Archer Defense 10 |
| Recipe: Roast Snake Meat | Required: Dry Wood(1), Snake Meat (5), Salt(2) | Increase Peltast Defense 10 |
| Recipe: Salt Baked Rice | Required: Dry Wood(1), Vanilla Spice(1), Rice(4), Salt(2) | Increase Pikeman Defense10 |
| Recipe: Pancake | Required: Dry Wood(1), Vanilla Spice(1), Flour Sack(4), Cinnamon(2) | Increase Cavalry Defense:10 |
| Recipe: Roast Bird Meat | Required: Dry Wood(1), Vanilla Spice(1), Bird Meat(5), Sugarcane(2) | Increase Ballista Defense 10 |
| Recipe: Dog Meat Soup | Required: Dry Wood(1),Vanilla Spice(1), Dog Meat(5), Salt(2) | Increase Trebuchet Defense:10 |
| Recipe: Winter Food | Required: Dry Wood(1), Vanilla Spice(1), Rice(3), Tomatoes(3) | Increase Archer Constitution 17.5 |
| Recipe: Ramadan Food | Required: Dry Wood(1), Vanilla Spice(1), Flour Sack(3), Sugarcane(3) | Increase Peltast Constitution 17.5 |
| Recipe: Meat Grain | Required: Dry Wood(1), Vanilla Spice(1), Streaky Pork(3), Rice(3) | Increase Pikeman Constitution 17.5 |
| Recipe: Steamed Pork with Rice Flour | Required: Dry Wood(1), Vanilla Spice(1), Streaky Pork(3), Flour Sack(3), Cinnamon(2) | Increase Cavalry Constitution 17.5 |
| Recipe: Fried Rice | Required: Dry Wood(1), Vanilla Spice(1), Rice(2),Salt(2), Tamarindus Indica Linn(2) | Increase Ballista Constitution 17.5 |
| Recipe: Fried Glutinous Rice Balls with Sesame | Required: Dry Wood(1), Vanilla Spice(1), Flour Sack(2), Sugarcane(2), Pimento(2) | Increase Trebuchet Constitution:17.5 |
| Recipe: Sliced Noodles | Required: Dry Wood(1), Vanilla Spice(1), Flour Sack(3), Streaky Pork(3), Pimento(2) | Reduce Archer Damage 2% |
| Recipe: Curry Bean Curd | Required: Dry Wood(1), Vanilla Spice(1), Soya Bean(3), Streaky Pork(3), Cinnamon(2) | Reduce Peltast Damage:2% |
| Recipe: Mapo Bean Curd | Required: Dry Wood(1), Vanilla Spice(1), Soya Bean(3), Streaky Pork(3), Tamarindus Indica Linn(2) | Reduce Pikeman Damage:2% |
| Recipe: Color Bean Curd | Required: Dry Wood(1), Vanilla Spice(1), Soya Bean(5), Cinnamon(2), Tomatoes(2) | Reduce Cavalry Damage:2% |
| Recipe: Mapo Strong-Smelling Preserved Bean Curd | Required: Dry Wood(1), Vanilla Spice(1), Soya Bean(5), Cinnamon(2), Tamarindus Indica Linn(2) | Reduce Ballista Damage:2% |
| Recipe: Four-Joy Meatballs | Required: Dry Wood(1), Vanilla Spice(1), Streaky Pork(2), Flour Sack(2), Tomatoes(3) | Reduce Trebuchet Damage:2% |
| Recipe: Fricassee | Required: Dry Wood(1), Vanilla Spice(1),Wolf Leg Meat(2), Ham(2), Bird Meat(2) | Reduce Humanoid Monster Damage:2% |
| Recipe: Pot Wrapped Meat | Required: Dry Wood(1), Vanilla Spice(1), Streaky Pork(2), Flour Sack(2), Cinnamon(2) | Reduce Beast Damage 2% |
| Recipe: Roast Wolf Leg | Required: Dry Wood(1), Chef Spice(1), Low-Grade Salt(3), Low-Grade Cinnamon Powder(3), Natural Honey(5), Salt Wolf Meat(2) | Increase All Archer Attributes MAX HP 22.5,ATK 1.75,DEF 12.5 |
| Recipe: Three Vegetables and Potstuck Rice | Required: Dry Wood(1), Chef Spice(1), Low-Grade Salt(3), Low-Grade Pimento Powder(3), Pork(5), Rice Crust(2) | Increase All Peltast Attributes MAX HP 22.5,ATK 1.75,DEF 12.5 |
| Recipe: Babylon Fried Rice | Required: Dry Wood(1), Chef Spice(1), Stuffing(3), Low-Grade Tamarindus Indica Linn(3), Olive Oil(5), Meat Grain(2) | Increase All Pikeman Attributes:MAX HP 22.5,ATK 1.75,DEF 12.5 |
| Recipe: Tiramisu | Required: Dry Wood(1), Chef Spice(1), Low Grade Catsup(5), Raisin(5), Doughnut(2) | Increase All Cavalry Attributes:MAX HP 22.5,ATK 1.75,DEF 12.5 |
| Recipe: Sweet and Sour Pork | Required: Dry Wood(1), Chef Spice(1), Stuffing(3), Low-Grade Cinnamon Powder(3), Jam(5), Fry Cutlet(2) | Increase All Ballista Attributes MAX HP 22.5,ATK 1.75,DEF 12.5 |
| Recipe: Alioum | Required: Dry Wood(1), Chef Spice(1), Low-Grade Tamarindus Indica Linn(5), Natural Honey(5),Ramadan Food(2) | Increase All Trebuchet Attributes MAX HP 22.5,ATK 1.75,DEF 12.5 |
| Recipe: Wine Chocolate | Required: Dry Wood(1), Chef Spice(1), Low-Grade Salt(5), Tuna(5), Brandy(5) | Reduce Archer Damage 4% |
| Recipe: Fish Feast Dessert | Required: Dry Wood(1), Chef Spice(1), Bean Curd(3), Low-Grade Salt(3), Bear Gall(5), Pilose Antler(5) | Reduce Peltast Damage 4% |
| Recipe: Vitality Soup | Required: Dry Wood(1), Chef Spice(1), Low-Grade Cane Sugar(5), Red Tea(5), Raisin(5) | Reduce Pikeman Damage 4% |
| Recipe: Afternoon Tea | Required Dry Wood(1),Chef Spice(1), Low-Grade Pimento Powder(5), Europe Pancake(5), Jam(5) | Reduce Cavalry Damage 4% |
| Recipe: Flavorful Pancake | Required: Dry Wood(1), Chef Spice(1), Low-Grade Cane Sugar(5), Natural Honey(5), Chocolate(5) | Reduce Ballista Damage:4% |
| Recipe: Ferrero | Required: Dry Wood(1), Chef Spice(1), Bean Curd(3), Low Grade Catsup(3), Walnut(5), Pork(5) | Reduce Trebuchet Damage:4% |
| Recipe: Borsch | Required: Dry Wood(1), Chef Spice(1), Low-Grade Cane Sugar(5), Apple(5), Lychee(5) | Reduce Humanoid Monster Damage 4% |
| Recipe: Fresh Compote | Required: Dry Wood(1), Chef Spice(1), Low-Grade Pimento Powder(3), Low-Grade Cinnamon Powder(3), Gold Scorpion(5), Tuna(5) | Reduce Beast Damage:4% |
| Recipe: Exotic Fragrance Roast Fish | Required Dry Wood(1), Banquet Spice(1), Meat Paste(4), Medium Grade Medium Grade Catsup(2), Medium Grade Tamarindus Indica Linn(2), Flavorful Pancake(6) | Increase Hero EXPs+50% |
| Recipe: Nile Hamburger | Required: Dry Wood(1), Banquet Spice(1), Medium Grade Cane Sugar(4), Medium Grade Cinnamon Powder(4), Fried Glutinous Rice Balls with Sesame(3), Red Tea(30) | Increase All Troop Attacks |
| Recipe: Foreign Lands Tea | Required: Dry Wood(1), Banquet Spice(1), Medium Grade Salt(4), Medium Grade Cane Sugar(4), Apple(10), Raisin(10), Fry Pancake(3) | Increase All Troop Attacks |
| Recipe: Foreign Lands Tea | Required: Dry Wood(1), Banquet Spice(1), Medium Grade Salt(4), Medium Grade Cane Sugar(4), Apple(10), Raisin(10), Fry Pancake(3) | Increase All Troops Defense |
| Recipe: Fruity Fry Pancake | Required: Dry Wood(1), Banquet Spice(1), Medium Grade Salt(4), Medium Grade Tamarindus Indica Linn(4), Pilose Antler(10), Coconut(10), Vegetable and Fruit Soup (3) | Increase all Troops Constitution 27.5 |
| Recipe: Buddha Skipping Wall | Require: Dry Wood(1), Banquet Spice(1), Medium Grade Cinnamon Powder (4), Medium Grade Pimento Powder (4), Jam(10), Sardines(10), Indica Rice(3) | Reduce All Troop Damage |
| Recipe: Sharm Rice Roll | Required: Dry Wood(1), Court Spice(1), Top Grade Cane Sugar(8), Top Grade Top Catsup(4), Cheese(30), Jam(30), Raisin(30), Lychee(30) | Increase Hero EXP+90% |
| Recipe: Dessert Made Dish | Required: Dry Wood(1), Court Spice(1), Meatball(4), Top Grade Cinnamon(4), Buddha Skipping Wall(3) | Increase All Troop Attributes:MAX HP 32.5,ATK 2.25,DEF 17.5 |
| Recipe: Super Invincible Seascape Buddha Skipping Wall | Required: dry wood(1), court spice(1),top grade Tamarindus indica Linn(4), top grade salt(8), Brandy(25), Tea(25), Vodka(25), Coconut(25) | Reduce all Troops Damage:8% |
| Recipe: Mischief Drink | Required: Dry Wood(1), Fantasy Spice(1), Super Cane Sugar(8), Super Tamarindus Indica Linn(4), Dessert Made Dish(2), Four-Joy Meatballs(5), Rye Porridge(5) | Increase Hero EXP+140% |
| Recipe: Afternoon Tea Set Meal | Required: Dry Wood(1), Fantasy Spice(1), Cured Meat(4), Super Cinnamon Powder(4), (3), Dog Meat Soup(6), Dried Pork(6), Roast Snake Meat(6), Roast Bird Meat(6), Vegetable and Fruit Soup (6) | Increase All Troop Attributes |
| Recipe: Fragrant Meat Extreme Set Meal | Required: Dry Wood(1), Fantasy Spice(1), Super Pimento Powder (8), Super Salt(4), Mischief Drink (1), Foreign Lands Tea (3), Streaky Pork(6) | Reduce All Troop Damage:10% |
| Recipe: Strange Food Set Meal | Required: Dry Wood(1), Chef Spice(1), Flour Sack(10), Low-Grade Cane Sugar(3), Rum (5), Chocolate(5) | Increase Hero EXP+200% |